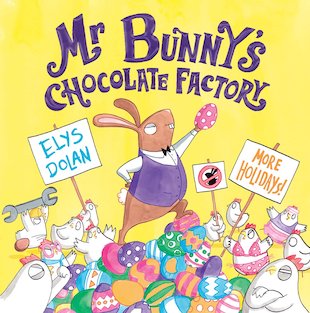 Look inside
Mr Bunny's Chocolate Factory
2018 Scholastic Lollies Awards winner!
How do you think chocolate eggs are made? Tee-hee: did you really think chocolate hens laid them? Nope! Well, not quite. They're made in a factory full of cheerful hens who eat lots of chocolate, drink lots of tea and lay lovely eggs all day long. That is – until the owner, Mr Bunny, gets greedy. He wants MORE MONEY! MORE CHOCOLATE! RIGHT NOW! Soon the poor hens are working night and day. The Quality Control Unicorn isn't happy at all. And then the hens go on strike…
A cheeky treat by the creator of The Doughnut of Doom
Winner – Scholastic Lollies 2018 picture book category
Exuberant artwork bursting with wild and witty details
Important message of fairness and respecting others
"The humour is fabulous and the subject matter hilarious." Parents in Touch
"A feast of giggles for every generation." Lancashire Evening Post
#lollies-2018-shortlist
#lollies-2018-picture-books
#lollies-2018-all
#lollies-2018-picture-books-vote
#snowball-reading-list
Fun Stuff
Who's reading this?