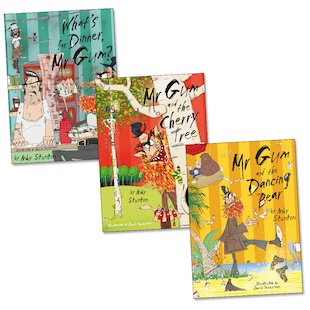 Look inside
Mr Gum Trio
Smooky palooki! The three most recent Mr Gum adventures bring more mayhem and madness to the ever-quarrelsome streets of Lamonic Bibber! Mr Gum is so horrible that children scream when they look at him and dogs run to hide under hedges. He is absolutely grimsters. And just when the townsfolk of Lamonic Bibber think they might have earned a welcome break from their most revolting resident, Mr Gum strikes back with his three latest tales, in which he tangles with a bear called Padlock, disgusts everyone with his dinner-time antics, and conceals dark secrets in a cherry tree! Read them and get up to date!
Fun Stuff
Activities
Download this bonkers wallpaper for your computer!

Download this funny Mr Gum wallpaper for your computer!
Who's reading this?