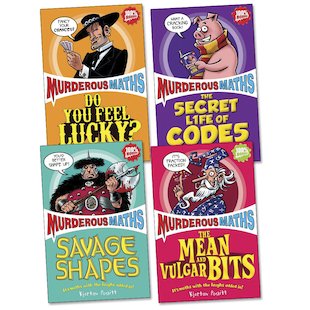 Look inside
Murderous Maths Ferocious Four
Maths with the laughs added in – and the boredom taken away. No nasty sums. No boring exercises. It's ferociously funny! But beware! Professor Fiendish and his rotten sidekick Chainsaw Charlie are living proof that maths can be murderous. So… dare you attempt Professor Fiendish's freaky fractions? Can you crack Chainsaw Charlie's cunning codes? Or work out how likely you are to learn to love maths lessons one day? It's time to see… and to press all those mysterious calculator buttons that you've always been afraid to touch!
Fun Stuff
Activities
A 100& horrible Murderous Maths poster for you to print out.

Cool wallpaper for you to download!

Download some 100% horrible wallpaper!
Who's reading this?