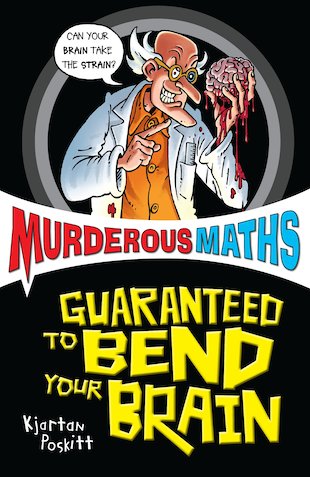 Look inside
Murderous Maths: Guaranteed to Bend Your Brain
Hate maths? That's smart – because maths can be really murderous. But in this book you won't spot any dull exercises or nasty sums. Instead, get ready to see…
how maths can rescue someone in deadly peril
which famous mathematician's sums were so deadly he got murdered
how time began.
This ferociously funny book has all the tricks, tips and short-cuts they NEVER teach you at school… plus heaps of daft laughs to melt your brain! But beware! As Professor Fiendish and his rotten sidekick Chainsaw Charlie tangle with heaps of nasty numbers, YOU are at risk of dying of laughter. That's why it's called Murderous Maths!
Fun Stuff
Activities
A 100& horrible Murderous Maths poster for you to print out.

Cool wallpaper for you to download!

Download some 100% horrible wallpaper!
Who's reading this?