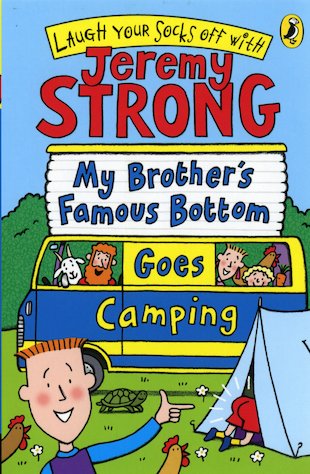 Look inside
My Brother's Famous Bottom Goes Camping
Oh no! Once again, Nicholas's dad has had a great idea – always a recipe for disaster! This time he's planning to take the whole family camping, including Cheese and his famous bottom. Sounds great, except that it's not just the family (and Cheese's bottom) who are going: Tomato is taking her pet carrot, Cheese has smuggled his hen into the van, and Granny and Lancelot have packed a goat! And they haven't even set off yet! Another delightfully silly story starring Cheese, his famous bottom, and the whole family.
Fun Stuff
Quizzes
Activities
Unjumble the letters to form titles of books by Jeremy Strong.

Speed up your desktop with this brilliant Hundred-Mile-an-Hour Dog wallpaper.

This is a weird and wonderful wordsearch!

Set Krazy Kow loose on your desktop!
Who's reading this?