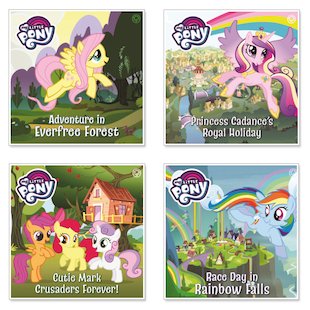 Look inside
My Little Pony Picture Books Pack x 4
Why stay in human world? It's time to explore a dreamy world where ponies are in charge – magical ponies! Come and explore their mystical kingdom, Equestria. Unicorns, winged ponies and sonic rainbooms really exist here! Meet the colourful pony friends of this perfect place, including flying wonder Rainbow Dash, kindly Fluttershy and unicorn princess Cadance. You'll see all kinds of enchanting things in their simple, pretty stories. But by the end, you'll be in no doubt: friendship is the best magic of all!
Charming first books from the world of My Little Pony
Heartwarming, magical tales of friendship and teamwork
Beautiful colour artwork in a bright panelled layout
Enchanting series which is loved all over the globe
Who's reading this?
We want to read this book