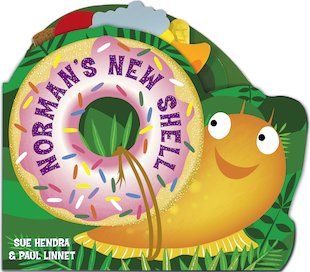 Look inside
Norman's New Shell
Seriously scrumptious! Norman the stylish slug dreams of having a shell like a snail's. Can he find his perfect shell in this fabulous shaped board book? It's full of big laughs, tasty treats and amazing shaped pages. There's even a page shaped like an ice cream cone – and a shell to match! First Norman tries out a yellow bath duck. Could this be his new shell? No – the bubbles make him sneeze. What about the round red apple? No – there's a little worm living in it! The ice cream freezes his back. Brrr! The teapot is too heavy. Will Norman ever find a shell that is just right?
A hilarious board book with colourful shaped pages
By the bestselling creator of the Supertato series
A charming feelgood story of following your dreams
Helps young children explore shapes and colours
Who's reading this?
We want to read this book