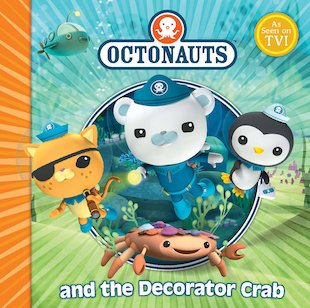 Look inside
Octonauts and the Decorator Crab
Our aquatic heroes are caught in the centre of a whodunnit when vital pieces of Octokit are stolen from the ship! They decide to stake out the thief, and the tension mounts as more and more bits go missing. But who is the culprit, and why is he stealing their stuff? The mystery is solved when he is unmasked as a decorator crab, salvaging the crew's things to cover his shell! More funny and exciting action with Captain Barnacles Bear and his crew, solving mysteries and sorting out problems deep beneath the sea.
Fun Stuff
Quizzes
Activities
Colour Peso, Barnacles and Kwazii aboard the Gup-A!

Match the creature to their shapes in The Octonauts and the Ghost Reef Rescue.

Can you guide the intrepid crew out of the Olde Fangled Caves?

Explore! Rescue! Protect! Hunt out the fishy words in the Octonauts wordsearch.

Match the Octonauts characters with their shadows and names.

Can you spot eight cakes or biscuits missing from the bottom picture?

Can you spot the five differences between these two pictures of the intrepid Octonauts crew?

Can you spot five differences between these two pictures of Kwazii Cat?

Match each Octonaut to their activity on pages 6-7 of The Octonauts and the Only Lonely Monster.
Who's reading this?
We want to read this book