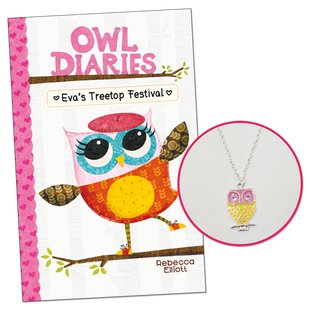 Look inside
Owl Diaries: Eva's Treetop Festival
Indulge your owl addiction and chuckle like mad at the same time. Eva's colour diary is a hoot – and now it comes with a gorgeous free necklace! We all love owls. But what's it like to actually be one? Find out in the secret diary of Eva Wingdale: an owl whose life isn't a million miles from your own. (Apart from living in a treehouse, of course.) Eva's hobbies? Chatting on her Pinecone phone, hanging out with friends, going to tree parties and drawing in this book. Her not-hobbies? Dealing with the meanie owl from school!
Includes a beautiful free owl necklace
By a top writer/artist who has won several awards
Beautiful colour pictures all the way through
Simple chapter reading which builds stamina
Who's reading this?
We want to read this book