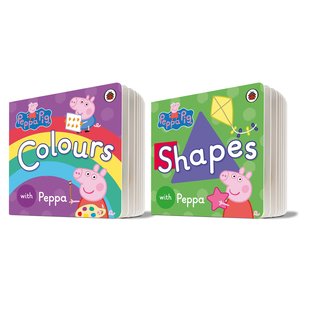 Look inside
Peppa Pig: Colours and Shapes Pair
Got tiny trotters? Here are the Peppa books for you. Bright colours. Big laughs. Very easy learning. When you're small, it's nice to keep things simple. So Peppa's made two sweet little books that help you learn by looking at your world. What colours and shapes can you spot when you look at your favourite objects? You can look at a ball, or a yummy sandwich, or a kite… Learn to identify colours and shapes, name them and read their written names. That's all – but it's lovely. And it works.
Fun Stuff
Activities
Peppa loves to ride her bike, and now you can colour her in!

Everyone loves to jump in muddy puddles, especially Peppa and her family. Use your brightest colours!
Who's reading this?