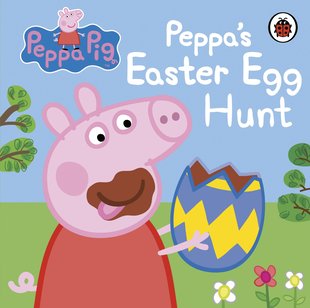 Look inside
Peppa Pig: Peppa's Easter Egg Hunt
Look: Peppa has chocolate all over her face! But where did she find that yummy egg? Well – Grandpa Pig has made an Easter treasure trail hunt for Peppa and her friends to follow. Peppa's face smeared in chocolate might seem to give away what happens next. Yes, there will be yummy chocolate eggs. But there's a surprise too. Peppa is about to find something really exciting hidden at the bottom of the garden…
Charming Easter fun with Peppa and family
Follows Peppa on an exciting Easter trail
A funny delight with a surprise at the end
This lovely Easter gift is ideal for sharing
#mothers-day-17
#easter-17
Fun Stuff
Activities
Peppa loves to ride her bike, and now you can colour her in!

Colour this picture of Peppa's mummy reading her book.

Fill in the gaps in this Peppa story by using the words below.

Daddy Pig shares his top tips for learning to read Peppa Pig style!

Make your own Peppa Pig bookmark.

Colour this picture of Peppa's daddy reading his newspaper.

Colour in Peppa and George.

Colour this fun picture of George playing with his spotty ball.

Colour in and cut out this Peppa Pig Easter card.

Colour Peppa's house and the draw a picture of your home!

Everyone loves to jump in muddy puddles, especially Peppa and her family. Use your brightest colours!

Peppa and George love muddy puddles! Read the poem and shout out the right word when you see a picture.

Download your very own Peppa Pig certificate for piggy-tastic reading!