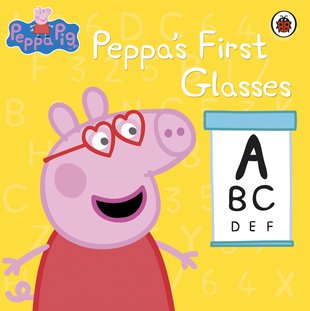 Look inside
Peppa Pig: Peppa's First Glasses
One for you lucky smallies who wear groovy glasses. Help Peppa pick her favourite funky frames. Peppa has a new craze: glasses! Her friend Pedro Pony has a really cool pair. There are sparkly glasses, shiny glasses, even heart-shaped glasses. So many to choose from! Peppa is longing to pick her perfect pair. So Mummy Pig takes her to see Mr Pony, the optician, and Peppa has an eye test… Lovely colour pics and a funny twist that's bound to make you giggle. Brilliant fun if you wear glasses – or even if you don't!
Fun Stuff
Activities
Peppa loves to ride her bike, and now you can colour her in!

Colour this picture of Peppa's mummy reading her book.

Fill in the gaps in this Peppa story by using the words below.

Daddy Pig shares his top tips for learning to read Peppa Pig style!

Colour this picture of Peppa's daddy reading his newspaper.

Colour this fun picture of George playing with his spotty ball.

Colour Peppa's house and the draw a picture of your home!

Everyone loves to jump in muddy puddles, especially Peppa and her family. Use your brightest colours!

Peppa and George love muddy puddles! Read the poem and shout out the right word when you see a picture.

Download your very own Peppa Pig certificate for piggy-tastic reading!
Who's reading this?