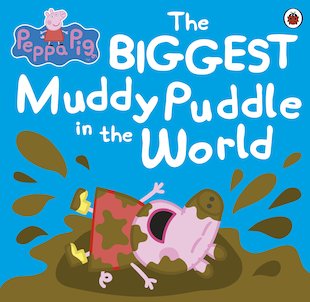 Look inside
Peppa Pig: The Biggest Muddy Puddle in the World
Peppa and her little brother George don't mind rain, because rain means lots of muddy puddles to jump in! But what will happen when the rain is so heavy and torrential that it results in a flood of biblical size? Excitement is in store as Granny and Grandpa Pig come to the rescue in their boat, while the piglets see their flooded town as never before. And when the water disappears, it creates Peppa's dream come true – the world's biggest ever muddy puddle! Encouraging children to see the bright side of any kind of weather, this cheerful and charming picture book will become a family favourite.
Fun Stuff
Activities
Peppa loves to ride her bike, and now you can colour her in!

Colour this picture of Peppa's mummy reading her book.

Fill in the gaps in this Peppa story by using the words below.

Daddy Pig shares his top tips for learning to read Peppa Pig style!

Colour this picture of Peppa's daddy reading his newspaper.

Colour this fun picture of George playing with his spotty ball.

Colour Peppa's house and the draw a picture of your home!

Everyone loves to jump in muddy puddles, especially Peppa and her family. Use your brightest colours!

Peppa and George love muddy puddles! Read the poem and shout out the right word when you see a picture.

Download your very own Peppa Pig certificate for piggy-tastic reading!

Colour in Peppa Pig in this snowy winter scene!

Here's a summery Peppa word puzzle for you to solve.
Who's reading this?
We want to read this book