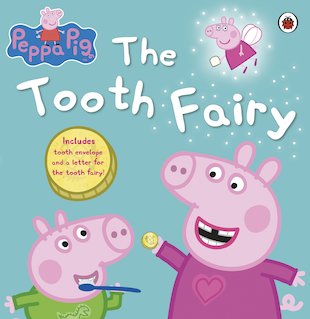 Look inside
Peppa Pig: The Tooth Fairy
Map your teeth and write to the Tooth Fairy. Peppa will show you what to do. In fact, Peppa has just lost her own first tooth. Now it is tucked safely under her pillow – and she's waiting for the tooth fairy to flutter by. Very simple words and beautifully bold illustrations: this reassuring read shows that wobbly teeth are nothing to be scared of. It includes a tooth envelope and letter for the tooth fairy, plus a tooth chart to fill in each time a tooth falls out. Plus: don't miss Dr Elephant's tips on looking after your teeth.
Fun Stuff
Activities
Peppa loves to ride her bike, and now you can colour her in!

Colour this picture of Peppa's mummy reading her book.

Fill in the gaps in this Peppa story by using the words below.

Daddy Pig shares his top tips for learning to read Peppa Pig style!

Make your own Peppa Pig bookmark.

Colour this picture of Peppa's daddy reading his newspaper.

Colour this fun picture of George playing with his spotty ball.

Colour Peppa's house and the draw a picture of your home!

Everyone loves to jump in muddy puddles, especially Peppa and her family. Use your brightest colours!

Peppa and George love muddy puddles! Read the poem and shout out the right word when you see a picture.

Download your very own Peppa Pig certificate for piggy-tastic reading!

The words in the quiz are all missing letters. Can you find the right ones?

Here's a summery Peppa word puzzle for you to solve.

Reward piggy-tastic reading with a special Peppa Pig reading certificate.
Who's reading this?
We want to read this book