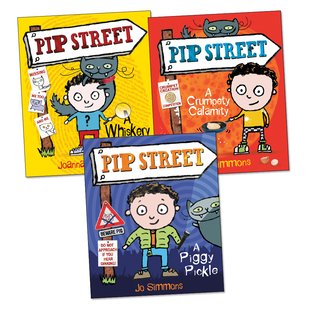 Look inside
Pip Street Trio
The chaos of Mr Gum plus the zing of the Zombie Goldfish. These quirky mysteries crackle and pop louder than Rice Krispies. Pip Street is an ordinary street where extraordinary things happen. From the moment Bobby moves there, he's caught up in the weirdness. Like: vanishing cats all along the street (who is to blame?). And sinister pigs with hypnotic eyes, who seem to be turning out all the lights. It's up to Bobby and his fizzy neighbour, Imelda, to get to the bottom of things. We're really loving Pip Street right now. It's funny and quirky but with a touch of mystery too. As zingy as salt and vinegar on your chips. And even a tiny bit spooky.
Fun Stuff
Activities
Here's a pic of Bobby and Conkers for you to colour.

Can you help Bobby find Conkers?
Who's reading this?