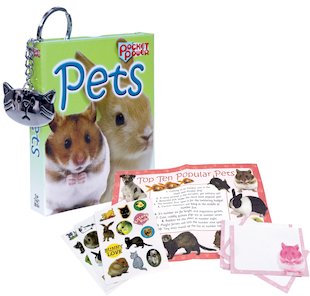 Look inside
Pocket Power: Pets
A mini file of cuties to slip into your pocket. Now you needn't choose one pet – there's room for them all! If you're wild about pets and you can't bear to be away from them, here's a fluffy way to keep them by your side. This adorable mini file is chock-a-block with cuties who just love to be carried round everywhere you go. Fluffy ducklings, cheeky kittens, podgy hamsters and velvety puppies – to play with anywhere and any time. Just how cute is that?
Includes a gorgeous metal cat charm keyring
Have fun with stickers, notepaper and a poster
Read up on fun facts in the colourful booklet
Find out how to care for your favourite pets
Who's reading this?
We want to read this book