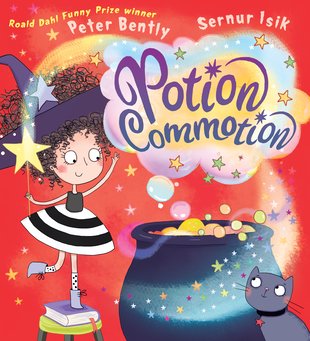 Look inside
Potion Commotion
Cheeky rhymes, magic spells, food, hungry dragons… and a real magic wand for lucky YOU! When a little witch called Betty tries to make a potion, what does she stir up? A recipe for silly disaster! Betty mixes in all her favourite things – strawberry jam, slices of ham… There's just one problem: her potion is GROWING! Soon the sticky mess is spreading all over town. Is it going to swallow the houses…? And then a hungry dragon appears! Uh-oh! His favourite meal is PEOPLE. Nothing could be yummier. Or could it…?
A magical rhyme from a Roald Dahl Funny Prize winner
Includes a free wand – perfect for make-believe games
Award-winning author of Dustbin Dad and Cats Ahoy!
Endearing little witch Betty will charm every reader
#autumn-reads07092016
#interactive-07092016
#halloween-1016
#halloween20-16