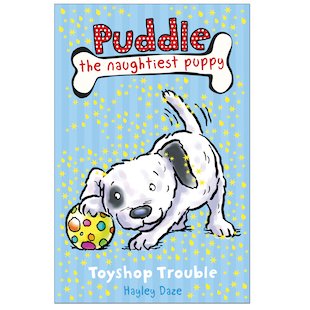 Look inside
Puddle the Naughtiest Puppy: Toyshop Trouble
Puddle loves rainy days! Why? Because of Ella and her magic umbrellas. Every time it rains, they can choose a different umbrella to whisk them up into the clouds – and away into adventure! And when an umbrella covered with pictures of toys takes Puddle, Ella and Harry to a factory, they discover that it's filled with weird and wonderful toys: dolls, teddies, play-things and games of all sorts. But the toymaker is in a muddle. He's trying to create a spectacular new toy for a big competition, but his inventions keep going wrong – and now he's run out of ideas. Is this a chance for Puddle and Ella to let their imaginations run wild, and help the toymaker come up with a truly winning invention?
Fun Stuff
Activities
Here are two lovely Puddle pictures for you to colour in.

Help Puddle to spot the five differences between the pictures, and find his juicy bone!
Who's reading this?