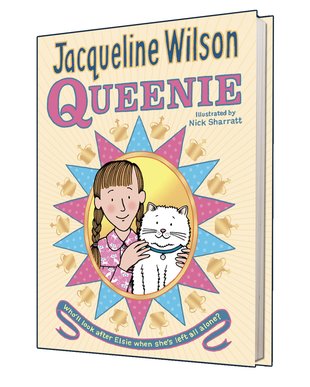 Look inside
Queenie (Hardback)
The brilliant new book from bestselling author Jacqueline Wilson!
It's 1953, and Elizabeth is about to be crowned Queen of England. Elsie Kettle can't wait to go to London to see the celebrations on Coronation Day. But tragedy strikes when both Elsie and her Nan fall ill with tuberculosis, and Elsie is whisked away to the grim children's ward of the local hospital. Confined to bed for months on end, Elsie finds it very hard to adapt to the hospital's strict regime. But as this imaginative and spirited girl invents exciting ways to entertain the other children on the ward, she finds herself surrounded by true friends for the first time in her life – including Queenie, the majestic white hospital cat. Finally, Elsie is well enough to leave hospital. But before she does, she has one very special, very unexpected visitor…
#reading-lists-9
Fun Stuff
Activities
Colour in this picture of Ruby and Garnet.

Festive craft, recipes and more…download our FREE activity pack to celebrate Christmas Jacky-style.

You can use your craziest colours to complete this funky picture.

Which books have you read?
Who's reading this?