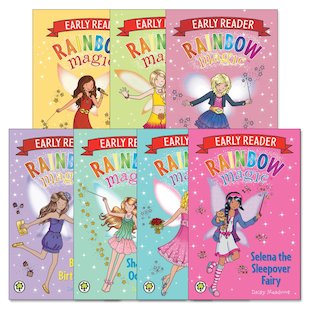 Look inside
Rainbow Magic Early Readers Pack x 7
The sweetest colour easy-readers from the magicians at Rainbow Towers. Are you a fairy fan? These will get you flying high. Sparkling fairy stories that have inspired thousands of little readers. But in lovely shorter books for children who are a little bit younger. All the pretty pictures are now in colour, and the writing has been made a tiny bit easier. That means short sentences and not too many long words. Come and explore the world of these best-loved fairies. Find out just how magical books can be.
Easy colour versions of Rainbow Magic favourites
Perfect for younger fans and developing readers
Rainbow Magic has sold over 29 million copies
Simple formula which quickly builds confidence
Fun Stuff
Activities
Four beautiful weather fairies for you to colour in.
Who's reading this?