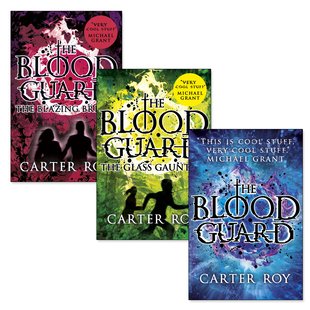 Look inside
Rewards Value Pack: The Blood Guard Trilogy
Rewards Value PackGreat value book packs available on rewards.
Imagine Alex Rider on a mission to save souls. Car chases, great gadgets and supernatural foes! Ronan Truelove used to think he was a normal kid, in spite of his rather gallant name. But he's just found out he's the youngest member of the Blood Guard: an ancient order sworn to protect the Pure. (Thirty-six truly good souls who will one day save all of us.) Now it finally makes sense. This was why his mum insisted on martial arts lessons. Deadly battles, magical stunts and killer wisecracks are all in a day's work. It's good vs evil – no holds barred. Now Ronan must save his parents, his dream girl, and the world…
A thrilling fantasy quest with a cool modern setting
An epic story of good vs evil, full of action and fun
For fans of Percy Jackson and The Unicorne Files
"Wildly intense and deviously funny" – Michael Grant
#summer-18
#sum-18
Who's reading this?
We want to read this book