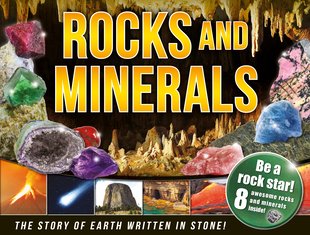 Look inside
Rocks and Minerals Box
What's rocking our world? Errr – rocks! Plus their sparkly cousins: minerals. (Beautiful, precious and seriously useful.) Want to know more? Rock out with this genius kit, which includes your own rocks and minerals collection. It's even got semi-precious stones like amethyst and green fluorite! When you know about rocks, the whole world becomes a treasure trove. We don't just mean the usual suspects, like diamonds and rubies. We're talking fossils: dead prehistoric creatures! Coal: the world's powerhouse! Meteorites: real-life space invaders! Stalactites: nature's greatest sculptures! Don't just walk over Earth's wonders. Be the kid who can find them.
Includes a rocks and minerals collection plus a poster
Amethyst, rose quartz, obsidian, black jasper and more
Book of amazing facts with an activity to grow a crystal
Ideal first geology guide which supports school science
#nf10-0916
Who's reading this?
We want to read this book