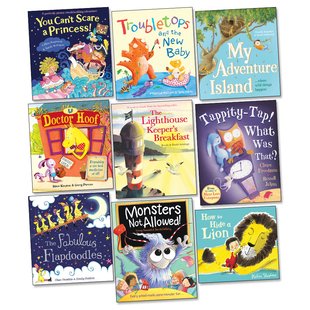 Look inside
Scholastic Value Picture Book Pack
A feast of home-grown Scholastic fiction chosen for its freshness and child-appeal, full of recent classics-in-the-making to brighten up your shelves. In this quality pack we're proud to bring you the best of our very own recent picture book publishing, which is not only highly nutritious for young minds but kind to your pocket as well. From funny and quirky stories to sweet and soothing ones, these books reflect what young children themselves choose to read time after time. Mixing celebrated authors with rising stars who are making waves, this pack is a treasure-trove of story delight from the place where kids learn to love reading!
Fun Stuff
Activities
More gubbins for your pirate!

Draw a pirate with Princess Spaghetti from You Can't Scare a Princess.

Hints and tips on sharing this book with children.
Who's reading this?