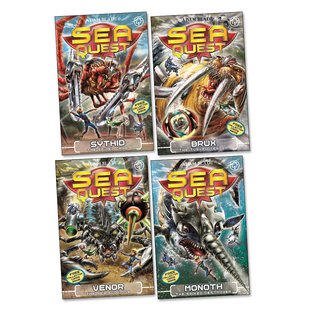 Look inside
Sea Quest Pack: Series 5 x 4
No rest: a new Quest! Get your wetsuit ready: this is no place for landlubbers. Pirates. Treasure maps. RoboBeasts. The planet needs saving. As usual. The dread pirate Red Eye is stealing precious Merryn treasures. But he's not only driven by greed. Red Eye has a bigger (and much more evil) plan. Oh dear. Max and Lia must stop him. What does that mean? Can you guess? Killer robots. Terrible weapons. Insane missions. Deadly battles. Yup: all those thrilling reasons why you love Sea Quest.
#reading-lists-7
#reading-lists-9
#seaquest
#sq-1
Fun Stuff
Activities
Here's an action-packed picture of Silda the Electric Eel for you to colour!

Dare you dive in? Download cool Max wallpaper.
Who's reading this?