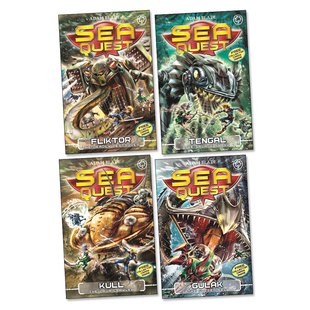 Look inside
Sea Quest Pack: Series 6
Hate RoboBeasts? What if you became one? Max and Lia face a slave army and a shark who makes Jaws look pretty. In the city of Aquora, a plague of tiny robots has infested human minds. People are turning into brainwashed slaves. But it's no good hiding in the water… Terrible metal monsters are lurking under the sea. Including Tengal, a shark you really don't want to tangle with! Can Max and Lia find out who is behind this plot? And can their new ally, the Professor, be trusted? Four spine-tingling new stories with FREE collector cards.
Fun Stuff
Activities
Here's an action-packed picture of Silda the Electric Eel for you to colour!

Dare you dive in? Download cool Max wallpaper.
Who's reading this?