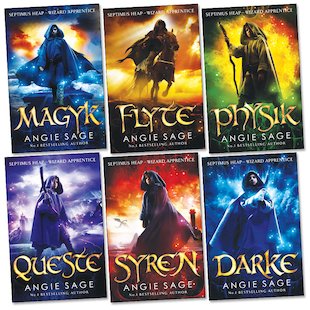 Look inside
Septimus Heap Pack x 6
Uh-oh. Be very scared. There's a new dark wizard on the block. Forget Lord Voldemort and Sauron. This guy is even meaner, and he controls the dead. His name is DomDaniel: a necromancer who intends to seize control of all magykal things. He's killed the queen and locked up the Extraordinary Wizard. He's all on track to take over the world. (And fill it with horrible dark creatures just like him.) BUT… Yeah, there is one massive 'but', although DomDaniel doesn't yet know it. A lost child. An unlikely hero. A magykal boy named Septimus Heap!
A captivating fantasy crackling with action and humour
Globally bestselling series published to huge acclaim
Set in a unique and brilliantly imagined magical universe
Perfect for fans of Harry Potter and The Lord of the Rings
"We can't get enough. More, please!" The Times
"Scoots along like a dragon-boat with the wind in its sails." Sunday Times
#fantasy-reads-wbd
Who's reading this?
We want to read this book