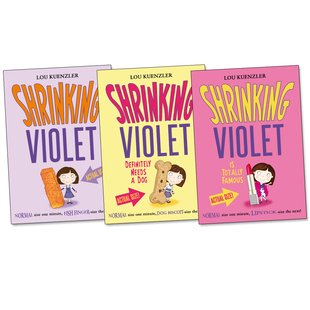 Look inside
Shrinking Violet Pack
Meet a feisty girl with a habit of shrinking to fish-finger size. Violet is trouble… and fun! Imagine being the size of a lipstick. Or a dog biscuit. Or a teddy. That's what it's like being Violet. Her personality might be quite BIG, but she simply can't stop shrinking. Usually at completely the wrong moments. Like: on the Plunger rollercoaster (just as she's finally grown tall enough to ride it). Or when she's playing with a bouncy puppy. Eeek! Read on if you like books as funny as Roald Dahl, as quirky as Clarice Bean and as shrink-tastic as Mrs Pepperpot. Tiny heroine: BIG LAUGHS.
Fun Stuff
Activities
Meet Shrinking Violet – and colour her in!

Shrinking Violet is a series about a girl who discovers she can shrink to the size of a biscuit! Download our free puzzle sheet.
Who's reading this?