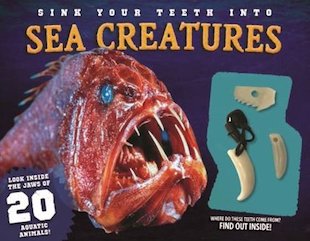 Look inside
Sink Your Teeth into Sea Creatures
If you could dive deep and check out the jaws of hungry sea creatures, what would you see? Prepare to be very scared! Yup: in this book you'll take the role of a deep-diving dentist to examine ocean horrors that would love to have you for lunch! How can you avoid becoming a shark's midday snack? Why does the hideous anglerfish have such terrifying teeth? And what on earth is the menacing fangtooth? (Warning: keep your distance.) If you're ready to answer those questions, take a bite out of this book!
A vivid close-up look at 20 amazing sea creatures
Includes three replica teeth and a black necklace cord
A unique perspective focusing on each critter's jaws
Full of incredible colour photos, maps and fact files
#march-british-science-week-18
Who's reading this?
We want to read this book