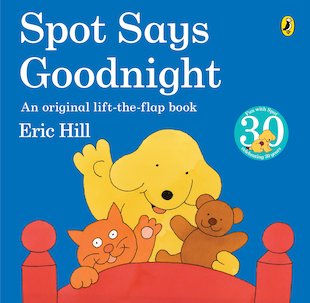 Look inside
Spot Says Goodnight
Follow Spot's bedtime routine in this snuggly lift-the-flap classic. See him put his toys away, have his bath and get into bed with his teddy – and say a lot of "goodnights!" Full of warm-hearted domestic scenes and familiar details which toddlers love to recognise and talk about, this interactive book also has plenty of cute surprises which can be found by lifting up the flaps! Featuring colourful pictures and very simple words, its a great way to talk about how we prepare for bed at the end of each day, encouraging children to look forward to their own bedtimes.
"A fab story for little ones resisting bedtime" Mother & Baby
"The perfect first bedtime story for little ones" Junior
Fun Stuff
Activities
Here's a picture of Spot and his family for you to colour in.
Who's reading this?