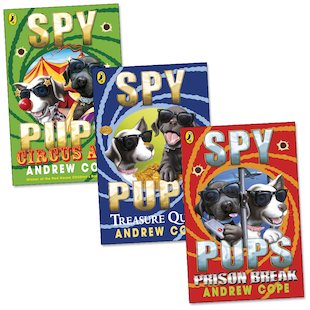 Look inside
Spy Pups Trio
Crooks have double trouble on their hands in the form of twin Spy Pups, Spud and Star. They're Lara the Spy Dog's perky new puppies – and they're ready for anything! Star is super-smart and ready to pounce. Spud is scatty and accident-prone, but a genius with gadgets. Following hot in the paw-prints of their mother, the world's only MI5-trained Spy Dog, they love nothing more than cracking tough cases – and giving nasty villains a bitten bottom! And in their first three adventures, they nose out a mystery at a spooky smuggler's cottage, unmask a crook at the circus – and take on their mum's arch-enemy, the villainous Mr Big!
Fun Stuff
Activities
Colour in Star and she rockets past on George's skateboard.

Colour in Spud and Star in their proudest moment yet!
Who's reading this?