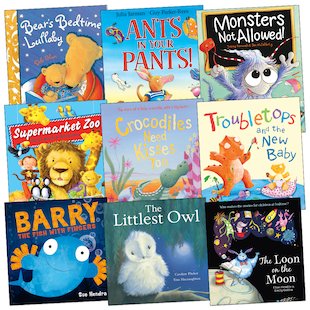 Look inside
Stories to Share Pack
A feast of the finest recent picture book publishing in one bumper pack of delights! Full of bedtime stories and snuggle-ups to suit the autumn weather, it's an instant home library booster. Children and grown-ups who are raring to read together will find all the inspiration they need here. Snuggly stories, bedtime lullabies, family stories and gentle adventures – plus some totally wild choices like Caryl Hart's bestselling Supermarket Zoo! There are tales of every kind in this luscious assortment, which any would-be reader ought to own. It's the perfect starter or refresher for your personal picture book collection.
Fun Stuff
Activities
Colour this fun picture of Barry!

Match the pairs to find the two odd fish out.

Colour in this cheeky monkey mask, then ask an adult to help cut it out.

Can you spot all the animals on the shopping list? Tick them off as you go!
Who's reading this?