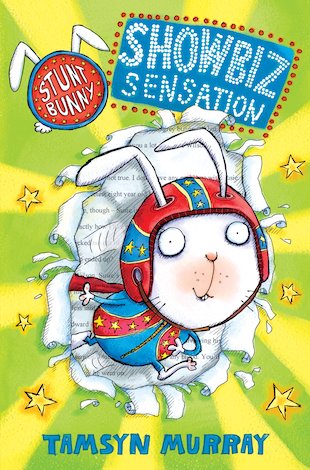 Look inside
Stunt Bunny: Showbiz Sensation
"I'll let you into a secret. My name hasn't always been Harriet Houdini. For about twenty minutes after Susie and her dad brought me home from the pet shop, I was called Flopsy. Have you ever heard anything so ridiculous in your life?"
Meet Harriet Houdini, a rabbit with attitude! From the moment she's adopted by the Wilson family, she shows a truly spectacular talent for escaping. Never destined to be a boring bunny, Harriet soon finds herself scouted by the producer of hit TV show Superpets – the start of a glittering career on the showbiz highwire. From daring backflips to thrilling escape acts, Harriet truly is a Stunt Bunny extraordinaire!
Fun Stuff
Activities
Colour your very own Stunt Bunny puppet, and ask an adult to help you cut it out.

Can you find all the Stunt Bunny words in this tricky puzzle?
Who's reading this?