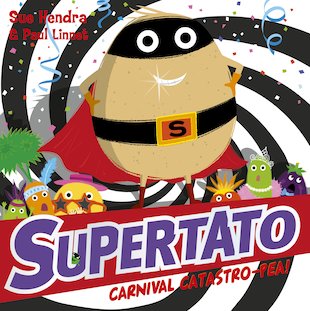 Look inside
Supertato: Carnival Catastro-Pea!
It's carnival time at the supermarket. All the veggies are feeling festive. They're going to rock the aisles in style with music, costumes and colourful parades. But one vicious vegetable is out to spoil the fun. Can you guess who? Yup – here comes trouble with a capital P! This time, our mini green enemy has a devious device that could ruin EVERYTHING. Can Supertato and his brave buddies save the celebrations from turning into a carnival catastro-pea?
Another hilarious picture book for this best-loved series
By the acclaimed creator of Barry the Fish with Fingers
Bold pictures, cheeky humour and a jolly carnival theme
The first Supertato book won the Hampshire Book Award
Who's reading this?
We want to read this book