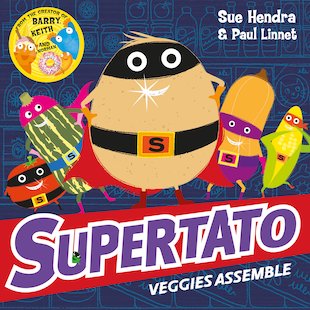 Look inside
Supertato: Veggies Assemble
How silly? Veggies make you strong. They also make you laugh. One evil pea. One mighty veggie army! Maybe you think vegetables just lie around on plates. Wrong! Not this super spud and his crunchy edible crew. These veggies are your friends, fighting for peace and justice. But now the Evil Pea (not your friend) is on the loose! He's scaring all the shoppers. It's chaos in the supermarket aisles. Supertato needs your backup! Stop that pea! Gobble him up!
By the acclaimed creator of Barry the Fish with Fingers
Laugh-out-loud fun where veggies save the world
The first Supertato book won the Hampshire Book Award
Sue Hendra's wacky humour really appeals to children
#world-book-day-2016
#favourite-authors-wbd
#funnybooks-isbc-mini
#reluctant-readers-17
#editors-picks-0617
#snowball-reading-list
Who's reading this?
We want to read this book