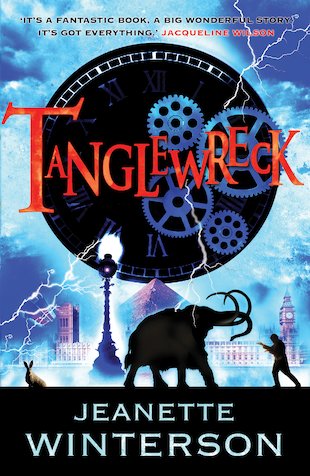 Look inside
Tanglewreck
Time is big business, and whoever gets control of time controls life as we know it! Nobody knows what to do when the Time Tornadoes start. Their mysterious, frightening changes are turning everything to confusion. Some days are long, some are short. Time stops, then jerks forward. People are getting caught in Time Traps – locked in the past, then pushed into the future. Who has caused this evil, and why? Far from the city, in the strange old house Tanglewreck, Silver lives with her bony, bad-tempered aunt, and hears strange stories about the Timekeeper – an alchemist's watch that could steady time again, if anyone could find it. And when the sinister Abel Darkwater arrives at Tanglewreck in search of the mythical watch, Silver must begin a dangerous journey through time and space. Can she find the long-lost Timekeeper – before time finally runs out? A gripping and dazzlingly imaginative fantasy from celebrated author Jeanette Winterson.
"A fantastical, imaginative and impressive parable" Financial Times
"An exceptional book" Observer
Who's reading this?
We want to read this book