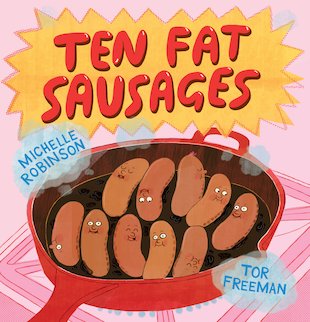 Look inside
Ten Fat Sausages
Winner of the Laugh Out Loud Book Awards 2020 Picture Book category!
A tasty rhyming treat for kids who love laughing! Ten brave bangers really don't want to be eaten. Pop! Bang! Sizzle! It's time to run away! You know that traditional song, Ten Green Bottles? This is kind of like it – but not quite. Ten fat sausages are sizzling in the pan. This can't possibly end well. Why not escape, if they can? So they make a run for it – but danger is everywhere. There's the cat, the blender, the plughole and the kitchen fan. Will their great escape save them? Or have they leapt into the fire, out of the frying pan?
A cheeky counting rhyme full of merciless humour
By the bestselling author of Goodnight Spaceman
Michelle Robinson is a rising star of picture books
Her books include There's a Lion in My Cornflakes
"Bright condiments, stricken-looking frankfurters and wicked comedy will appeal to the ruthless reader." Guardian
Who's reading this?
We want to read this book