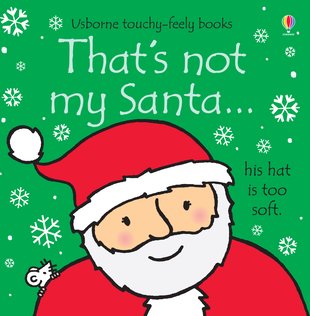 Look inside
That's Not My Santa...
Soft red hats. Shiny stars. Rough sacks filled with lovely presents. A whole book of Christmas magic. Can you feel it? YES! We think this Usborne series is the greatest, and this novelty book really has it all. Starry winter skies, present-laden sacks, snowy chimneys. And lots of Santas, of course. Touch squashy boots. Stroke a fluffy beard. Feel a sparkly sleigh. A touchy-feely treat when you're waiting for Santa to come.
Christmas fun from a best-loved Usborne series
Touchable textures and simple descriptive phrases
Bright colour pictures full of snowy atmosphere
A wonderful first board book for the very young
Product Recall – Batch # 01848/14 & 01851/10. The publisher of this title has notified us that a humidity issue may have affected a batch of this title. Whilst not all copies in the batch are affected they are recalling the batch as a safety precaution. If you have purchased this title from us, please check the batch number on the bottom left hand corner of the back cover. If your book has batch number 01848/14 or 01851/10 please contact our customer service team on 0845 6039091 and they will organise a full refund or replacement.