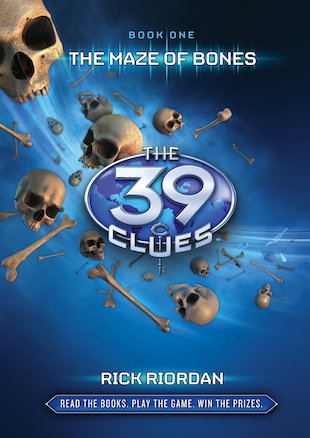 Look inside
The 39 Clues #1: Book 1: The Maze of Bones
Think you've gone everywhere books can take you? Think again. Books are going to a new place – but you have to follow the clues to get there. The Maze of Bones kicks off an amazing new concept which is part book and part game. Read the books. Unscramble the clues. Go on the web to play the game. Can you make it through the Maze of Bones and walk on the path to ultimate power?
Minutes before she died, Grace Cahill changed her will, leaving her descendants an impossible decision: "You have a choice – one million dollars or a clue." Grace Cahill was the last great leader of the Cahills, the world's most powerful family. Everyone from Napoleon to Houndini, Mozart to Benjamin Franklin, is related to the Cahills, yet the source of the family power is lost. 39 clues hidden around the world will reveal the clan's secret – but no-one has ever managed to assemble them. Now the race is on. Amy and Dan Cahill must decide what's important: hunting clues or uncovering what REALLY happened to their parents. Against them are the world's most powerful enemies – other members of the Cahill clan. On their side are wits, courage – and YOU. Can you help them to find the truth about their parents… and the dazzling reward that awaits: a real cash prize of $10,000? If you love reading, you'll love this. If you love gaming, prepare to go wild.
Fun Stuff
Activities
Crack the code to reveal the secret message.

Can you figure out this Franklin magic square? Insert the correct number in each empty square so each row and column adds up to 260.
Who's reading this?