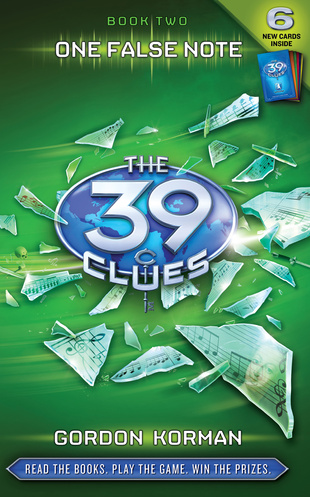 Look inside
The 39 Clues #2: Book 2: One False Note
NEWS JUST IN! Dan and Amy have been spotted on a train, hot on the trail of one of the 39 Clues hidden around the world. BUT WAIT! Police report a break-in at an elite hotel – and the suspects ALSO sound just like Amy and Dan. UPDATE! Dan and Amy have been seen in a car…. no, in a speedboat chase… and HOLD EVERYTHING! They're being chased by an angry mob!!! When there's a Clue on the line, anything can happen!
Follow Dan and Amy on a wild chase through Book Two of their white-knuckle mission. They're chasing down those clues to find the Cahill family secret: the source of its power and fantastic wealth. Can you join them, help to solve the quest – and win the grand prize of 10,000 dollars?
Fun Stuff
Activities
Crack the code to reveal the secret message.

Can you figure out this Franklin magic square? Insert the correct number in each empty square so each row and column adds up to 260.
Who's reading this?