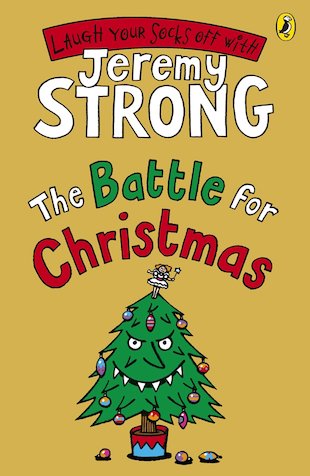 Look inside
The Battle for Christmas
It's Christmas – but not as you know it! When Ellie puts on her new pyjamas, she and her little brother Max are whisked off to the Christmas Shop. Sounds like heaven – except that a war has broken out and now it's more like hell! As battle rages between a valiant troop of toys and the wicked Christmas Tree Fairy and her angels, can Ellie and Max save Christmas for the world? Or will they be arrested for being 'mince spies'? A comic festive corker to make you bust a gut with laughter. It's Christmas – so bust open this book and celebrate!
Fun Stuff
Activities
Unjumble the letters to form titles of books by Jeremy Strong.

Speed up your desktop with this brilliant Hundred-Mile-an-Hour Dog wallpaper.

This is a weird and wonderful wordsearch!

Set Krazy Kow loose on your desktop!
Who's reading this?