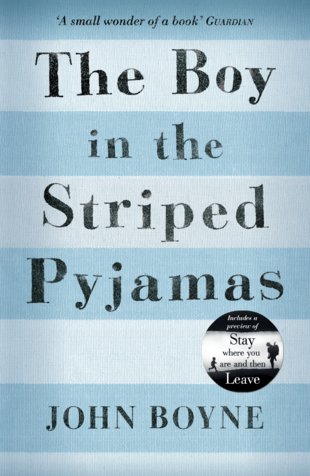 Look inside
The Boy in the Striped Pyjamas
That rare kind of book that shakes your whole being. Good, evil and friendship in a Nazi death camp. Berlin, 1942. Bruno gets home from school to find his things being packed into crates. His father has been promoted, and the family are moving to a new house far away. When they arrive at their desolate new home, Bruno is baffled by its isolation. Why does a razor-wire fence stretch all around it? And who is the boy across the fence, wearing striped pyjamas?
The Holocaust story that launched John Boyne to fame
A tale of innocence, evil and the power of friendship
Brilliantly imagined fiction with a compelling message
A modern classic that has also become a major film
"A small wonder of a book." The Guardian
"Quite impossible to put down, this is the rare kind of book that doesn't leave your head for days." The Bookseller
#reading-lists-11
#tile-favourite-authors
#talented-readers
#warstories
#secondworldwar-sc
#primary-092016
#readandrespond-0816
#top100-092016
#top100-ages9to11
#gr-10-11
#resolution-2-17
#jan-realistic-ya-17
#rrchildrens
#top-100-201718-primary
#top-100-201718-911
#top-100-201718-11
#top100age9to11
#top100age11plus
#top100-all
#top100-all1718
#top100age7to11
#top100age11to13plus
#readandrespond-reading-collections
#reading3for2
#bestchildrensbooks3for2
#summer-18
#sum-18
#sum-18-ie
#books-from-ireland
#reading-for-pleasure-ireland
#read-and-respond-2018
#pm19-offer
#booksfromie
Who's reading this?
We want to read this book