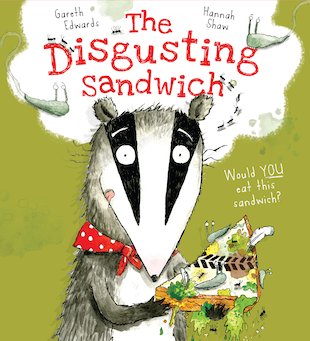 Look inside
The Disgusting Sandwich
On your marks… get set… GO! The sandwich is dropped, it's squished and squashed – but who will reach it first? Join Badger in his race for what used to be a very tasty sandwich! All the animals in the bushes have their greedy eyes fixed on it, waiting to pounce. There's a silver squirrel, a cunning fox and a band of slimy slugs. Will Badger ever get his paws on that disgusting sandwich? Or will he find something even yuckier to eat? A laugh-aloud picture book written by BBC producer Gareth Edwards. Hannah Shaw's glorious pictures deserve a whopping slice of credit too.
A very funny story by a major author and illustrator
Plenty of disgusting chuckles plus a brilliant twist
#younger-readers
#young-readers
#humour-books
#ey-books
#lol
#young-readers-1
#early-books1
Fun Stuff
Activities
Make this sandwich DISGUSTING!