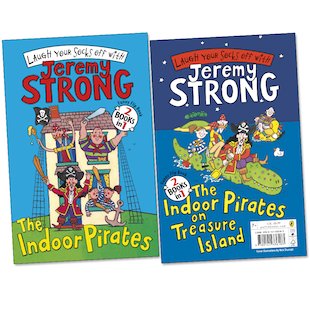 Look inside
The Indoor Pirates Flip Book
Two swashbuckling yarns in one barmy book! The indoor pirates are fierce, lawless bandits, but they have one fatal weakness: they hate the sea! Confined to No. 25 Dolphin Street, they're determined to keep on pirating and hunting for treasure, having lots of very silly adventures on the way. But when Captain Blackpatch takes the crew on a camping holiday, they're horrified to find clues that point to hidden treasure – buried on an island in the middle of a lake! How will they reach it when they're all terrified of water? Two stories full of piratical pandemonium from the master of laughter, Jeremy Strong.
Fun Stuff
Activities
Unjumble the letters to form titles of books by Jeremy Strong.

Speed up your desktop with this brilliant Hundred-Mile-an-Hour Dog wallpaper.

This is a weird and wonderful wordsearch!
Who's reading this?