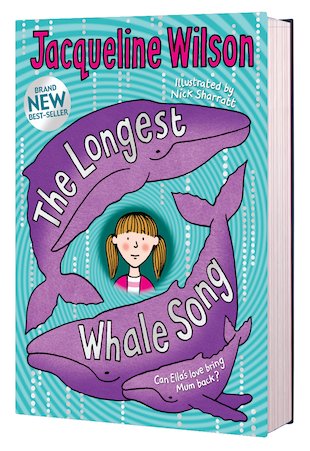 Look inside
The Longest Whale Song (Hardback)
When her mum falls into a coma after having a baby, Ella is left to cope with her well-meaning but shambolic stepdad – and a tiny newborn brother, Samson. Her only respite from all her worries is her school project about whales and the mighty songs they sing. Ella is fascinated by the idea of whale song, when whales call out to each other in underwater love songs. And the amazing story of one whale who sang non-stop for twenty-two hours gives her an idea. Could a whale's song somehow reach Mum and show her how much Ella cares? Might it help to bring Mum back to Ella and little Samson once again? A tender and moving story of hope in hard times, written in the classic Jacky mould.
Praise for Jacqueline Wilson:
"Simply the best. Truly brilliant." The Sun
"Her books just get better and better." Girltalk
Fun Stuff
Activities
Colour in this picture of Ruby and Garnet.

You can use your craziest colours to complete this funky picture.

Which books have you read?
Who's reading this?
We want to read this book