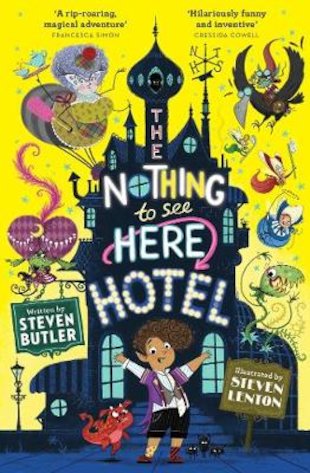 Look inside
The Nothing to See Here Hotel #1: The Nothing to See Here Hotel
Shortlisted for the Laugh Out Loud Book Awards 2020!
There's nothing to see here. No, really. Move along. All the interesting stuff is going on over there – definitely not here! I mean, why would you care about a hotel for magical critters, where totally weird is the new normal? Or that a goblin prince is about to arrive with his huge entourage? Worth seeing? Probably not. So turn away now. Well, unless you're Frankie Banister. His family run the hotel, and it's their job to cater to the rude goblin prince. Too bad that this high-and-mighty highness has a secret that spells big trouble for Frankie's family. Still, nothing to see here. Told you there wasn't…
First in a fabulously funny and magical series
By the bestselling author of The Wrong Pong
Set at a top-secret hotel for magical creatures
Hilariously wacky pictures by Steven Lenton
"Hilariously funny and inventive, and I love the extraordinary creatures." Cressida Cowell
"This hotel gets five stars from me." Liz Pichon
Who's reading this?
We want to read this book