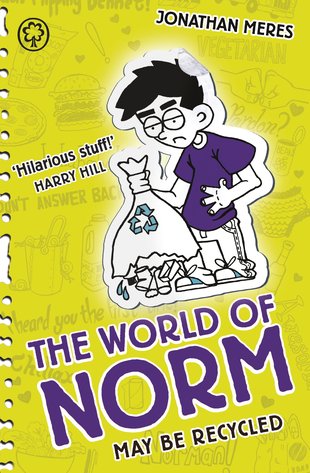 Look inside
The World of Norm #11: May Be Recycled
Uh-oh: Norm is feeling rubbish! Is it wrong to laugh? (Too bad if it is. We can't help it.) Why does your favourite grumpy hero look so glum? And why is he carrying a sack of trash? Well – he's had a totally rubbish day! It all started so well: home alone with the fridge to himself. So where did things go so terribly wrong? Where should we start…? Snails on the rampage. Having to hang his mum's pants out to dry. The dreaded perfect cousins paying a visit. Being forced to go vegetarian. Can anything else go wrong for poor old Norm today? We reckon so. But what? Read this book to find out!
By Time Out award-winning comedian Jonathan Meres
Harry Hill describes this series as "hilarious stuff"
Over 150,000 World of Norm books sold to date
Great if you like Big Nate or the Wimpy Kid
#funnyfiction-1309
Who's reading this?
We want to read this book