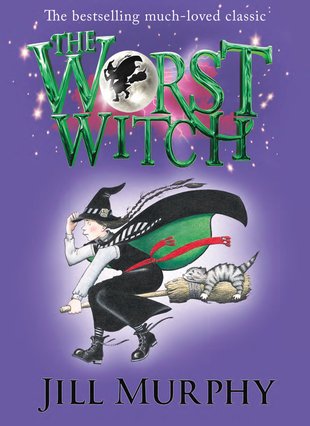 Look inside
The Worst Witch
Before Harry Potter, before the Wimpy Kid… there was Mildred Hubble, the worst witch in the world. Chuckle at her disastrous exploits in this classic series set in the original school for witches. (Hogwarts, eat your heart out!) In this first book, lovable but clumsy Mildred is a new trainee at Miss Cackle's Academy for Witches. But she keeps getting her spells wrong and crashing her broomstick. Will she ever shake off her awful reputation as the worst witch around? Hubble, bubble, toil and trouble!
"Millions of young readers have fallen under the spell of Jill Murphy's Worst Witch." Sunday Express
#starbuys
#reading-lists-7
#sci-fi-fantasy
#middle-readers
#6-9-books
#middle-readers-2
#readandrespond-0816
#top100-092016
#top100-ages7to9
#halloween-1016
#rr-year5
#rrchildrens
#top-100-201718-primary
#top-100-201718-79
#top100age7to9
#top100-all
#top100-all1718
#top100age7to11
#top100-reading-collections
#anti-bully-youngerfiction-related
#anti-bully-all-younger-fiction
#sum-18-ie
Fun Stuff
Quizzes
Activities
We think fans of Mildred Hubble will love these funny, magical advenutures.
Who's reading this?
We want to read this book