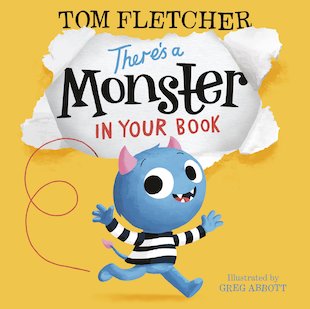 Look inside
There's a Monster in Your Book
Go beyond reading! A cute monster has invaded this story. Can you find it by tilting, spinning and shaking the book? This funny picture book by the wickedly talented co-author of The Dinosaur That Pooped series is a little bit unusual. It doesn't have dinosaurs (or poop) for a start. But actually, it's different from most other books out there. It's got a monster inside it! The mischievous little critter is running riot. You need to get him out, before he wrecks the book. But how? Blowing at him, shaking him, tickling his feet: what'll do the trick? Quick – try something else! He's laughing at you!
A quirky, unique picture book by McFly's Tom Fletcher
A tactile treat made to be shaken, tilted and handled
Hilarious illustrations show the impact of each action
Tom is the co-author of The Dinosaur That Pooped books
"The noisy fun is a great way to get rid of the last fidgets before settling down for the night." Booktrust
#world-book-day-2018
#oi-cat-reading-list
#snowball-reading-list
Who's reading this?
We want to read this book