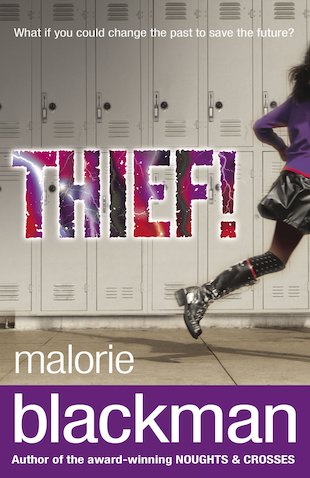 Look inside
Thief!
"Lydia's last thought before darkness closed over her mind was that the strange, swirling storm had trapped her."
When she is wrongly accused of being a thief, a furious Lydia flees onto the moors – and is snatched by an extraordinary storm which whirls her into the future. But in this computer-dominated future, her home town is ruled by a cruel tyrant… someone with whom Lydia turns out to have a great deal in common. Before she can get back to her own time, she must face a terrifying confrontation… Blending a gripping futuristic fantasy with a moral message about what happens if we refuse to forgive and forget, this is Malorie Blackman at her dazzling best.
Winner of the 1996 Young Telegraph/Fully Booked Award.
"Spellbinding… must surely establish Malorie Blackman as one of today's outstandingly imaginative and convincing writers." The Junior Bookshelf
"Few writers can sustain a plot as well as Malorie Blackman." The Sunday Telegraph
#top-100-201718-11
#top100age11plus
#top100-all
#top100-all1718
#top100age11to13plus
#summer-18
#sum-18