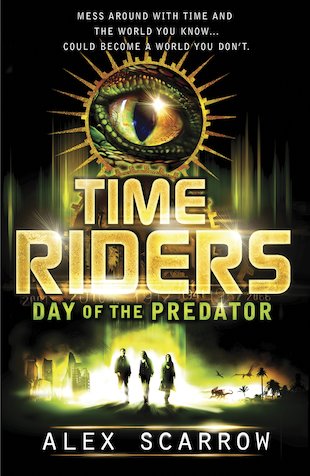 Look inside
TimeRiders: Day of the Predator
Mess around with time and the world you know could become a world you don't.
Liam, Maddy and Sal are the TimeRiders. All of them should have died – but were given a second chance at life. Working for an agency that no one knows exists, which prevents time travel from destroying history. But when Maddy mistakenly opens a time window where and when she shouldn't have, Liam is marooned sixty-five million years in the past. Even worse, he's in the hunting ground of a deadly and – until now – undiscovered form of predator. Can Liam make contact with Maddy and Sal before he's torn to pieces by dinosaurs… without endangering history so much that he drags a terrifying new reality out of the past with him?
Fun Stuff
Quizzes
Activities
Download our free TimeRiders wallpaper.

Download super-cool free TimeRiders wallpaper.
Who's reading this?